Read
New Year's Day in lunar calendar korean traditional holiday.
Date :
2015-02-09
Score :

★★★★★
Name : JIGAMAREE
Hits : 2549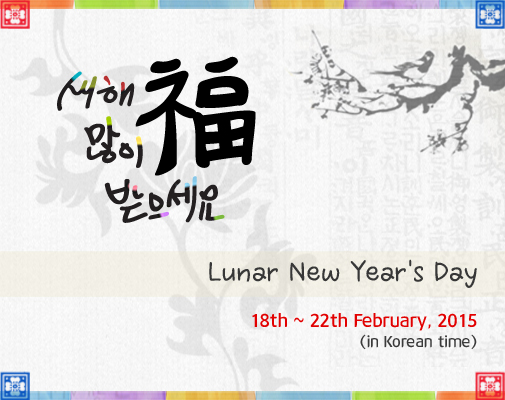 Dear jigamaree members!
Korean traditional holiday starts from
February 18th
to 22th for 5 days.
Products that you order to 16th on February
in
Korean
time can ship before our holiday.
So, we can reply and ship products to you on Mon 23Th, 2015.
Please understand us !
Best Regards
Jigamaree
---
List of posts

| No. | Product | | Content | Score | Name | Date | Hits |
| --- | --- | --- | --- | --- | --- | --- | --- |
| | | normal | | | 대표운영자 | | 8723 |
| 58 | | normal | | | JIGAMAREE | | 5139 |
| 57 | | normal | | | 대표운영자 | | 5212 |
| 56 | | normal | | | JIGAMAREE | | 5384 |
| 55 | | normal | | | JIGAMAREE | | 7597 |
| 54 | | normal | | | JIGAMAREE | | 5701 |
| 53 | | normal | | | JIGAMAREE | | 5874 |
| 52 | | normal | | | 대표운영자 | | 4450 |
| 51 | | normal | | | 대표운영자 | | 2456 |
| 50 | | normal | | | JIGAMAREE | | 3811 |
| 49 | | normal | | | JIGAMAREE | | 2389 |
| 48 | | normal | | | JIGAMAREE | | 2549 |
| 47 | | normal | | | JIGAMAREE | | 2678 |
| 46 | | normal | | | JIGAMAREE | | 3053 |
| 45 | | normal | | | JIGAMAREE | | 2651 |
| 44 | | normal | | | JIGAMAREE | | 2859 |